Poppy Seed Chicken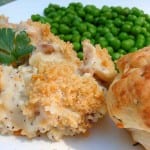 Instructions
Boil chicken and dice into chunks.
Mix soup, sour cream, poppy seeds, and 1/2 stick melted butter with chicken.
Place mixture in 9x13 pan. Melt other 1/2 stick of butter  and mix with crushed crackers. Place more crushed Ritz crackers on top and bake at 350 degrees for 45-60 minutes.
Print